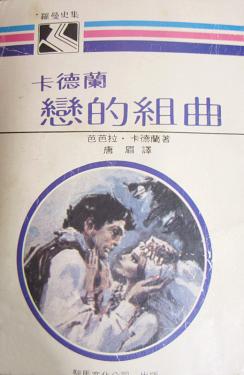 組曲之一「月光之吻 Kiss the Moonlight」, 組曲之二「受驚的新娘 The Frightened Bride」;  兩者皆是卡德蘭的最新鉅著。內容從希臘山野的奇美和神秘追敘到奇妙的印度舞台......一串串的戀曲由此展開。
1 - Kiss the Moonlight
Lady Mary Emmeline Athena's grandmother has arranged her marriage to the Greek Prince of Parnassus. Disillusioned by the palace gossips she ran away to Delphi, the shrine of Apollo, to pray about her future marriage. There, Athena met the handsome Orion, a man whose slim, athletic body made the fire in her breast burst into falen, She knew it was fate which had brought them together.
"Every moment, every second... I fall more deeply, more overwhelmingly in love". How could she love a man she had never met until that afternoon, Athena asked herself.
Then Athena was caught in the clutches of a dangerous bandit bandit Kazandis, and now he had taken her to a great dark cave high in the rugged Greek mountains. As he shoved her against the wall he sneered,
"I want you, and now you're mine. No one will find you here."
Suddenly a rustling far below warned him. While he turned to look, a faint hope stirred within Athena. Edging forward on her knees, she looked through the opening.
Far beneath them a man was climbing up the steep precipice. With an indescribable feeling of relief, Athena knew it was Orion. He had returned to try and save her!
**     **     **     **     **     **     **     **     **     **     **     **     **     **     **     **     **     **     **
2 - The Frightened Bride
It was hardly a love match. The couple met for the first time at the altar when they exchanged their marriage vows.
The bride's wealthy, dictatorial father had bribed and blackmailed Major Kelvin Ward into marrying his only daughter. Kelvin had no choice but to go through with the wedding, but he bitterly resented the old man's scheming and the girl who had deprived him of his freedom.
Now Seraphina, his young wife sat trembling in the bridal cabin of the ship that was carrying them to India, dreading the approach of the angry stranger who had just become her husband.