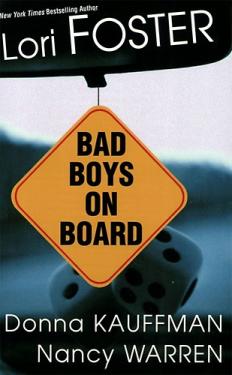 Anthology
Authors: Lori Foster, Donna Kauffman, Nancy Warren
Publisher: Kensington
My House, My Rules - Lori Foster
Tough, rugged cop Sam Watson has a reputation for being a hero on the job and delivering mind-blowing pleasure in the bedroom. But the only woman who drives him over the edge is the one who's completely wrong for him - the sweetly sexy and extremely determined Ariel. When Ariel's headstrong ways nearly wreck one of Sam's sting operations - ruining her alluring dress in the process - Sam offers her a ride to his place to clean up. But once there, Ariel seems to have her own agenda, and Sam decides it's time to show the lady that if she wants to play games of seduction, he'll be calling the shots, turning her every fantasy into a night of unimagined bliss...
Going Down? - Donna Kauffman
Long hours and little pay. That's what Callie Montgomery's life is all about as the temporary secretary to a financial wizard. Late one night, Callie honors yet once more request from her boss - to escort the dark, dashing, and very British Dominic Colbourne into the company's private elevator and out of the building. Suddenly, the elevator comes to a halt. Plunged into darkness, with hours to go till morning, two people bare their souls and their uncontrollable hunger, sharing a heartfelt intimacy that takes them far beyond protocol into exquisite pleasure...
A Fast Ride - Nancy Warren
When an accident leaves a motorcycle gang member down for the count in her front yard, Nell Tennant has to perform mouth-to-mouth on the sexy, long-haired stranger. This arouses the semi-conscious hunk, and before he slides into sleep, he wakes just long enough to deliver a full-body kiss that is one step removed from getting them both arrested for indecency. Now, fully awake but with his memory gone, this bad boy's convinced that Nell is his girlfriend, and he's eager to take up their stormy, passionate affair right where he left off...in bed...